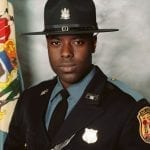 Corporal Stephen J. Ballard gave his life each day to the Delaware and the community he served. He worked hard to keep us safe.
The Delaware Tamil community and Charity Crossing donated $1,429 to help the Ballard family in their difficult time. Donation checks were given to DSTA – Stephen Ballard Memorial Fund.
Delaware State Police Officer AJ Zickgraf received the check at the community event on May 12th, 2017 at 6:30 pm at Stanton Middle School, 1800 Limestone Rd, Wilmington, DE 19804.