Be a volunteer
Want to make an impact in our community?
Have a skill or talent that could benefit our community?
Contact charity crossing to learn more about volunteering opportunities.
Donate at Paypal giving fund
PayPal Giving Fund helps people support their favorite charities online. They receive donations through PayPal, eBay, and other technology platforms and make grants to donors' recommended charities. It uses PayPal technology and financial support to fundraise for causes, without charging donors or charities for our services.
Donate at Amazon Smile
AmazonSmile is a simple and automatic way for you to support your favorite charitable organization every time you shop, at no cost to you. When you shop at smile.amazon.com, you'll find the exact same low prices, vast selection and convenient shopping experience as Amazon.com, with the added bonus that Amazon will donate a portion of the purchase price to your favorite charitable organization. You can choose from over one million organizations to support.
In Kind Donations
Throughout the year Charity Crossing volunteers collect in-kind donations, sort them, pack them, and safely distribute them to homeless and less fortunate members of the our community. You can donate as well as help with sorting, packing, and distribute during the time that is convenient for you.
For more information, please contact Charity Crossing.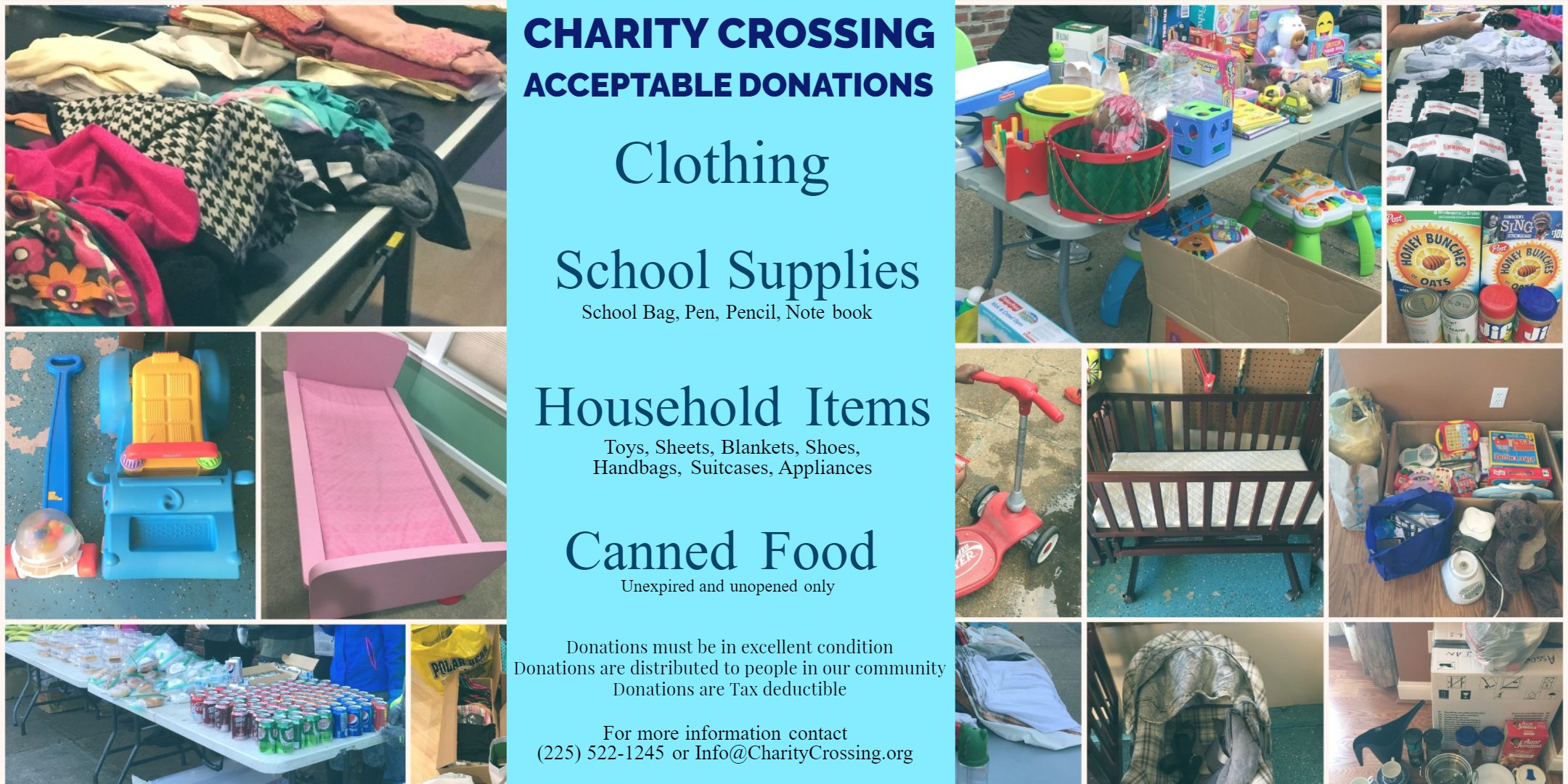 Good360
Doing good is in our mission
Good360's mission is to transform lives by providing hope, dignity, and a sense of renewed possibility to individuals, families, and communities impacted by disasters or other challenging life circumstances who, without us, would struggle to find that hope.
As the global leader in product philanthropy and purposeful giving, we partner with socially responsible companies to source highly needed goods and distribute them through our network of diverse nonprofits that support people in need.
GOODS FOR THE GREATER GOOD.
Bombas
DONATING TO THOSE WHO NEED IT MOST
When we first learned that socks are the most requested clothing item in homeless shelters, we knew we had to do something. We started Bombas to make an impact on our community by donating a pair of socks for every pair we sold, and continue that philosophy of thoughtful giving towards each clothing item we make. No matter what it is, one purchased = one donated.
Our mission
is simple…to provide joy to the homeless with new socks.
Our vision
is to be able to provide every homeless person in the United States with a few new pairs of socks every year.